Internet Marketing and your Small Business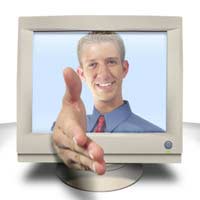 These days, regardless of the business you are in, you need a website. And there's no point having a website unless interested potential customers know about it. This article explains some of the tactics you can use to effectively market your products and services on the Internet.
Free and Cheap Marketing
Small businesses cannot afford to spend vast sums on advertising. Although there are some good-value ways of advertising on the Internet, which are covered later, you can achieve a certain degree of popularity for very little expense.
A blog is a journal or diary written on the Internet. Some blogs have many thousands of readers, and the bloggers that run them can be influential. If your enterprise produces a product, you may be able to get a popular blogger to write about it in return for sending them a free sample. Search for a blogger who has an interest in your type of product.
Some search engines take into account the number of links from other sites to yours when ranking its popularity. The traditional way to improve your website's ranking is to exchange links with other sites – they link to your site and in return you link to theirs. This is still a worthwhile tactic. Find some websites that are related to your business but are not in direct competition – the more popular the better – and see if they would be willing to link to trade links with you. This will help both sites to get more traffic, and is free apart from your time.
Paid Advertising
Your new website won't be listed in the search engines straight away. Most of these search engines have priority listing schemes where, for a fee, your site will be considered more quickly for indexing. If you cannot wait a few months for traffic, it would be worth considering paying these fees.
Once you are listed, it can take a huge amount of effort to get your website towards the top of the search results: regularly creating fresh content and getting people to link to it. An alternative and quicker solution is to bid for keywords relating to your product or service. Search engines that support this will typically put your website above the other listings when people search for those terms.
Outside the search engines, it is worth finding relevant websites and online newsletters and asking them whether you can advertise with them directly. This can be a very cost-effective way to market your products and services to your target audience.
Whatever route you choose to follow for marketing your small business on the Internet, one thing is certain. It's no longer sufficient simply to upload a website and sit and wait for the world to throw money at you. You already have thousands of competitors on the Internet. Thankfully, this is offset by the millions of potential customers available to you. In order for people to notice your website you will have to invest time, money or a combination of the two, but the benefits could be huge.
You might also like...