The Growth of your Small Business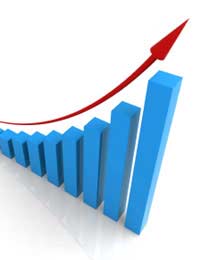 It's a standard interview question: "where do you see yourself in five years?" A job candidate's answer gives the interviewers an important insight into his or her aspirations; most importantly, it reassures them that the candidate has actually taken the time to give some thought to their future.
If someone can't be bothered to think about their own future, they probably won't care much about the company they work for. Perhaps these people are best avoided as employees.
The same logic applies to your small business. If you haven't yet thought about what you want it to be like in five (or ten, or twenty) years time, then take the opportunity now. As an entrepreneur, you are constantly making small decisions about the direction your business will take. You need to have a definite target in mind, otherwise you are relying on luck to guide you.
What motivated you to start your small business? If it was simply an extension of an existing hobby, built around something you enjoyed doing in order to earn a little pocket money then you may not want to grow your business. You'll be happy just ticking along, providing a quality product to customers who appreciate it – there's nothing wrong with this, but you need for it to be a deliberate decision on your part rather than stagnation in your business strategy.
On the other hand, most entrepreneurs measure their personal success by how well their businesses do, and are keen for them to grow.
How to Grow Your Small Business
Assuming that you do wish to grow your small business, there are various ways of going about it.
The first option is organic growth, in which you continually reinvest at least some of the profits from the business. This can be a slow process, but it does mean that your small business should not be weighed down with debt. It also ensures that there is a sufficient market to fund the business (since it will be doing this right from the start), and may allow the business to be driven by its customers rather than trying to dictate the market to them.
The other option is a big cash injection. This would be a good strategy, for example, if you decided to buy out one of your competitors. It could also be necessary if you were the first supplier of a new product or service and needed to establish market dominance before your competitors could catch up with you.
To raise money for a rapid expansion, you could approach a bank for a loan. If the proposition is seen as risky by the bank, you may be able to sell part of the business to a venture capitalist or angel investor, who will be able to provide experience in addition to money, and will be keen to help grow your business.
All businesses that need to grow should have a marketing plan in place. Aggressive growth calls for an aggressive marketing plan. Should something fundamentally change your market – a new product being more successful than you expected or a major competitor going out of business – you need to rework your business plans (including your marketing plan) to take that into account.
So there are basically two decisions you need to make. First, by how much do you want your business to grow, if at all. Second, how will you find that expansion: organically from the business itself, or from outside funding. Once you have your answers, and have recorded them in your business plans, you're ready to start working to grow your small business into a larger one.
You might also like...