How do Sales and Marketing Differ?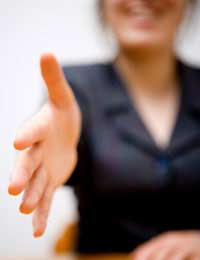 Although sales and marketing are often treated together, they are quite separate functions and it is important to understand the differences between them.
Sales
In order to make a profit, every business needs to sell. The sales function is simply logistical support for the transaction being made. If salespeople use any form of coercion, however charming that may be, it is more properly thought of as part of marketing.
On a hot summer's day, if you spot an ice cream van you may well purchase a cone. Money changes hands; a sale is made. You probably don't even notice which company owns the van – there aren't two competing vendors to choose between in the same place at the same time. It's hot – you just want a refreshing ice cream cone!
Marketing
Most businesses, however, don't have the luxury of being monopolies with captive audiences, as you might consider an ice cream van to be. Instead, they must compete with their rivals, and income is hard-earned.
Suppose a small town has two fixed ice cream parlours, both of them a short walk apart. Now the game has changed. People who want an ice cream have a free choice about which one to go to.
The town has lots of shops. Unless people happen to walk past one of the ice cream parlours at exactly the time that they fancy an ice cream, they may not even register the fact that these parlours exist. This is where marketing comes in.
This is the process of communicating an idea from a business to a consumer by advertising. The idea might be as simple as "Johnny's Ices is in King Street". Notice that there is no selling going on here, simply a process that makes it easier for a potential sale to happen. Once someone knows that Johnny's Ices exists and where it is, they are likely to seek it out next time they are hot and thirsty.
Of course, there is a huge range of messages that businesses may wish to convey to potential customers: "our product is reliable", "we offer good value", "you can try before you buy" and so on.
Marketers use advertising to grab the public's attention, creating messages that will stick in their minds. In some ways, it's almost hypnotic: it identifies barriers to making sales and removes them, comforting potential customers that buying the product or service is easy and that it will make them happy.
Interplay Between the Two
Sales may be made face-to-face, over the telephone, via the Internet or by post. If you go into a shop, you may talk to a salesperson. Any promotion effort was designed to get you to walk through the shop door; after that it becomes a matter of sales.
In short, the promotion side is concerned with telling a story to the general public that will encourage them to buy something; the sales function supports the logistics of taking money to make a profit and arranging service or delivering goods. Although the two processes can be interdependent, they are separate and each deserves to be planned and managed with this in mind.
You might also like...