The Facts About Small Businesses at Home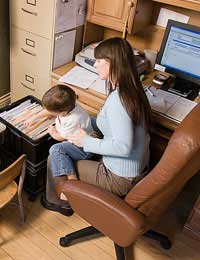 Estimates of home-based businesses range from 28 per cent of adult employment to 66 per cent of all businesses. However, no one really knows as it is impossible to keep track.
The 2008 Home Business Report suggested that 2.5m businesses were based at home (but figures vary) – a 16 per cent rise on 2007. A May 2009 estimate was that five million people were working a regular job AND starting to run a business at home during the evenings and weekends. That means that around 7.5 million people are running a business from home.
"Invisible" Home Businesses
It is difficult to make rigid definitions about home-based work; it is impossible to keep full and accurate statistics; data on the subject is unreliable. According to the University of Strathclyde home-based businesses account for a large share of the UK economy, yet they are "largely invisible". They are not separately identified from other businesses in official statistics and are difficult to survey.
The same report from the University says that many home businesses are happy to be "invisible" as owners fear burdensome regulation, extra taxes or even eviction from their homes. The result is that many home business owners elect to stay "below the radar".
One estimate suggests that 60 per cent of businesses start from home. Many stay there. Others grow into something bigger, moving on to business parks or the high street.
Survey Results
A 2009 survey of 500 entrepreneurs by O2 showed that many people in employment were concerned about redundancy and job security, and were looking to start their own home business. Estimates suggest that home businesses have grown by 20 per cent in the last 12 months. O2's survey also revealed that many phone owners were switching from their existing tariff to a business tariff, indicating the rise of home business ownership.
Another interesting fact from an O2 Small Business Confidence Index study was that 80 per cent of the 3,000 small businesses surveyed are switching to BlackBerry smartphones or iPhones to keep in touch with their activities, wherever they may be.
A BT-sponsored report says that 1,400 new businesses are started from home each week, and that the 2.1m home-based businesses now in existence generate £364 billion to the economy. In other words, they are crucial to the UK economy.
Technology
There is little doubt that technology has been a prime driver in the past 10 to 15 years of the increasing number of home businesses. Basically, now, anyone can do it. With improved phone technology, email, the ease of setting up a website, anyone can set up a business in a single day, from home. Working from makes it the simplest thing to set up an e-business which operates entirely online, and small groups of individuals can combine to create a virtual business, each operating from home in different parts of the country and communicating via their computers by email, Skype or chat software. They rarely – sometimes never – meet in reality.
With many people working for bigger corporations, but working from home on some occasions, the difference between home and workplace is becoming ever less tangible.
Future
More and more people are starting a business from home. Is it the last refuge? A late 2008 survey showed that 72 per cent of home entrepreneurs were planning to gain customers in the next six months and 58 per cent were developing new products or services. That's tremendous optimism in an apparently gloomy time of recession.
Some simple advantages that home workers have are to be able to keep costs down and operate in niche markets. While chaos apparently reins all around, the home business owner works serenely on!
You might also like...