The Importance of Building Customer Loyalty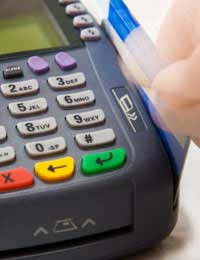 A business without customers is not a business at all! As an entrepreneur, you spend a lot of time trying to find new people to buy your products and services.
But don't forget that a repeat customer is at least as good as a new one. You don't need to spend time and money marketing to them because they already know who you are and what you do. In addition, these loyal people are more likely to recommend your business to their friends and colleagues. Such word-of-mouth advertising among peers is the best kind of marketing you can have.
Ways of Building Loyalty
You have probably seen the loyalty cards that supermarkets issue. The benefit to the customer is that they receive gifts or refunds in return for using their cards whenever they shop at that store. For the supermarkets, these cards provide a wealth of data about consumer shopping habits. Although such "data mining" is probably overkill for a small company, some form of discount card could help to build loyalty. People love to think they're getting a bargain: try raising your prices by 10% and then handing out cards offering 10% discounts to your best clients!
Here are some other common loyalty marketing approaches that could benefit your enterprise:
coupons given away with a purchase offering discounts redeemable at the next visit
cards offering a free product after a number of repeat sales (for example, a free cup of coffee after every ten cups bought, where the card is marked with a rubber stamp after each purchase)
special offers sent by post or email exclusively to people who have opted in to receive them
prominently branding your up-market product so purchasers can show it off and feel good about (and loyal to) your brand
Beware that, if the scheme you choose is available to new customers only, you risk damaging your reputation with existing ones if they are likely to feel left out.
Building a Relationship with your Customers
Although people like buying things, they don't like spending money. If you can tip this pleasure–pain balance in favour of the pleasure side, so buying from you becomes an enjoyable experience, then people will keep coming back.
Your relationship with a new customer begins at the point of first contact: when they first view your website, phone you up or set foot in your shop. What they think of your operation at this stage is really important – if you make a bad first impression then you will have to do a lot of work to repair the damage.
Big retail companies use mystery shoppers who are paid to visit the store, to make a purchase (for which they are refunded) and to report on the service they received. Consider a supermarket, where staff have been trained in how to present themselves. A mystery shopper may visit the store and ask a member of staff where to find a particular item, and then buy it at the checkout. The mystery shopper will report back whether the staff member they asked actually knew where the item was, and, if so, whether they were taken to it or simply pointed in the right direction. Similarly, how were they treated at the checkout? Did the assistant say hello to them? Did they smile?
There's no reason why a smaller enterprises can't use similar techniques. Ask someone you know and trust to sign up for your service or try to buy your products. Have them report back on what the experience was like. Tell your employees what you're doing and why, and offer bonuses for outstanding performance: workers don't like to think they're being spied on, but should understand the importance of providing good service.
A step on from this is actively to seek out feedback from your customers. People like to be consulted – merely asking them what they think about your company and its products goes some way towards building a stronger relationship with them. You could use questionnaires, written or face-to-face, or simply a feedback post box into which customers could post handwritten notes. Always treat such feedback seriously, even if you disagree with it. After all, they're doing you a favour – you should welcome the opportunity to continually tweak the customer experience to make it better.
It is easy to sell to someone that you have a good relationship with. If you understand your customer's problems, and buy or develop a new product with them in mind, then a sale is the natural consequence. Similarly, a client that knows you and your business well will turn to you for advice when they think you will be able to help, and a sale may follow with very little effort.
You might also like...