What is Venture Capital?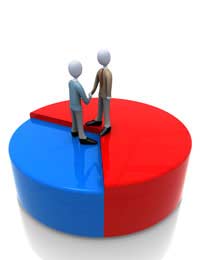 In the early days of private equity, venture capitalists (VCs) tended to be wealthy individuals and families who would privately finance organisations. Nowadays, VCs are more likely to be institutions, typically structured as partnerships.
This article explains what this type of funding is and why you might want to consider it as a way to finance the aggressive growth of your business.
What Does a Venture Capitalist Do?
A VC injects finance and brings managerial and technical expertise into the company. VCs usually only consider investment opportunities in excess of £2 million; angel investors are a better proposition for small businesses seeking a lower level of funding.
VCs risk their money on ventures that have yet to prove themselves; in return, they expect a significant proportion of the equity of the companies they invest in, together with a degree of control over the way those companies are run. VCs work with management to improve the performance of the company and help to shape the strategic direction it will take.
There is more demand for funding than there is finance available in the market, so VCs can afford to be selective in their investments. They are interested in companies with strong management teams and the potential for rapid growth.
Rounds of Funding
Companies seeking VC finance often go through several rounds of funding relating to the stages necessary in growing the company, from product development early on through to bridge financing to take the company public.
Getting a VC on board can also open up finance from other sources. It provides them with a degree of confidence that the company has a sound business plan and a good management team, given that the VC will already have closely inspected these aspects of the venture.
The Initial Public Offering (IPO)
Most VC investments are made in the expectation that the VCs will be able to cash in their investment within about three to five years. This is usually done by means of floating the company on the stock market through an Initial Public Offering.
Boom and Bust
Venture capital funded almost all of the companies involved in the Internet bubble and subsequent crash of the early years of the twenty-first century. The popping of this bubble caused many VCs to lose a lot of money, making it more difficult for fledgling companies to attract this kind of funding, although momentum is building once again.
Financing Your Company
The process of attracting VC finance can itself be a long and expensive one; even if you are successful, there will be legal and accountants fees to pay.
However, if you have founded a small company and nurtured it until it is as successful as it can be without a significant injection of cash, then a VC may be able to help you to take it to the next level. They can provide a sizable investment in return for a reasonable stake in the company, and will provide guidance and strategic direction to your management team.
If you dream of being the managing director of a sizeable company listed on the Stock Exchange, have an established company with a business plan for aggressive growth and have a strong management team capable of achieving it, then seeking venture capital finance may be your best route. As long as you are willing to cede some control to an investor, and give up some equity in order to grow, you could realize your dream within five years.
You might also like...