Bootstrapping Your Small Business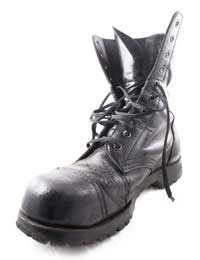 Not every small business has to appear out of nowhere with a fanfare and millions in venture capital behind it. Instead, it is possible to start a very small business from the kernel of an idea, financed entirely out of your own pocket, and allow it to grow organically by reinvesting the profits over time.
What is Bootstrapping?
A bootstrap is the attachment or handle that can sometimes be found on the neck of a boot, which allows the wearer to pull it on to his or her foot. There is an old saying "to pull yourself up by your bootstraps", referring to the impossibility of lifting yourself off the ground by tugging on your own bootstraps.
This idea has become more subtle over the years, and the term bootstrapping is now applied to a variety of self-initiating or self-sustaining processes. You may have heard the terms "booting", "booting up" and "rebooting" applied to computers: these are all derivations of bootstrapping.
In business, bootstrapping (or bootstrap funding) means that an entrepreneur starting a small business funds it initially from his or her own savings, perhaps with investments from friends or family. The key points are that the small business is started without formal investment from an institution, such as a bank, and the company is started small in the expectation that profit will be reinvested to allow it to grow over time.
Pros and Cons of Bootstrapping
Entrepreneurs are often attracted to bootstrapping because it can leave them with ownership and control of the company, which would not be the case with some other forms of start-up funding. However, they must be willing to accept the lack of security that comes from risking their own savings or borrowings in their venture.
Because growth is limited by the company's cashflow, bootstrapped small businesses may take a long time to establish themselves in their marketplace and to compete with their larger rivals. If your business needs to grow quickly in order to achieve market share then other forms of funding are probably more appropriate, even if they mean ceding some ownership and control.
Methods of Raising Money for Bootstrapping
The following are all popular ways for entrepreneurs to fund a bootstrapped small business:
a personal (rather than a business) loan, perhaps using a credit card or a second mortgage
personal savings
friends and family
asking for payment up front from customers
Saving Money
By its nature, a bootstrapped small business is probably short of cash to start with, so it is important to reduce costs as far as possible to help its security. A bootstrapped business can be run from home, say from a spare bedroom or even a basement, until it has grown sufficiently to be able to afford commercial offices or other premises. Savings can also be achieved by leasing equipment rather than buying it outright. If you can find salespeople who are willing to work on a commission-only basis then this will also save you money.
Is Bootstrapping Right for Your Small Business?
Bootstrapping can be an effective way to finance a small business, particularly if the start-up costs are modest and you anticipate that the company will quickly start to generate a profit, thereby funding its own growth from its cashflow. If this sounds like your company, and you're willing to put your money where your mouth is, then bootstrapping could be the way to go.
You might also like...