Finding a Location for your Business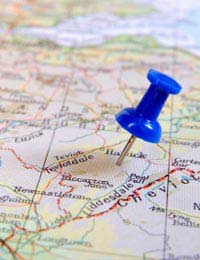 Some small businesses can thrive without passing trade. For example, mail order companies and entrepreneurs that sell goods and services via the Internet can operate from almost anywhere. Often, they are selling to people in their homes. In contrast, many retail businesses are reliant on their customers coming to them. In this case, the location of the shop or other premises can have a major impact on turnover.
Which of these two camps does your own small business belong to? Are you able to save money by operating from out of town where commercial rents are lower, or do you need a presence in the high street to generate sales from passers-by?
Is it Worthwhile Relocating?
If people tend to buy your product or use your service on impulse then you are probably in the second of these categories. In that case, if your small business is not already located in a good location then relocating it may make a dramatic improvement to your sales. Of course, good positions are generally more expensive (both to buy and to rent) than less desirable ones.
The trick to getting value for money when locating your small business is to find somewhere that is perfect for your own purposes, but which may not be ideal for other kinds of trade. For example, a record store may do well if it is close to a school even if that is not a busy part of town for shoppers in general.
Finding the Perfect Site
The key to finding the perfect site, as with so much in business, is to start from the customer. Who is your target customer? Where do they go to shop? Where do they spend their leisure time? Which existing shops in your local area do they go to?
This last point is important. Suppose you wanted to open a restaurant in a town that already had several restaurants. Where would be the best place? What about the worst place? It's not what you might expect, but the best place to open a new restaurant may well be right next door to an existing restaurant! You might think that the competition would be a bad thing, but this seems to be outweighed by the gravitational pull of having several types of the same small business together: when people are hungry, they can go to the "foodie" part of town knowing there will be plenty to choose from when they get there.
Think about the restaurants in your local town. Do they follow this strategy of grouping together, or are they spread evenly? What about the fashion retailers? This strategy is worth considering if your small business will be directly competing with other similar enterprises locally.
In short, if your small business relies on passing trade then it will pay you to locate it in an area with an abundance of potential customers. By carefully targeting your customers you may be able to operate from cheaper premises that suit you but which would not be appropriate for other ventures. And, finally, don't be afraid of some healthy competition – several similar outlets close together can help to draw customers in, and part of being an entrepreneur is the unshakable belief that your own offering is more compelling than that of your opposition. There really is strength in numbers.
You might also like...