Self Employed or Entrepreneur: What's the Difference?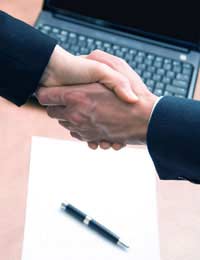 If we simply look up the Oxford English Dictionary definitions of these two words we get the following:
Self-employed: working for oneself as a freelance or the owner of a business rather than for an employer.
Entrepreneur: a person who sets up a business or businesses, taking on financial risks in the hope of profit.
They are not a million miles apart, but the difference in the way individuals approach business life when not working for someone else can be vast.
Many people have an ambition to "run their own business", and these days more people than ever are starting up their own businesses. With redundancies on the increase in the recession, many people will take the chance of "working for themselves" and will relish the opportunity of being their own boss and not being answerable to anybody else. It is, of course, admirable, but they could be digging a hole for themselves.
Going it Alone
Most people, when breaking out to go it alone – perhaps after redundancy, or perhaps making a conscious break away from employment by someone else – will naturally want to use the skills they have used before. An IT person may decide to become a consultant; someone who worked for a gas company might go solo; an accountant in a large firm may go independent.
It may seem a great idea to be able to make your own decisions, to find your own clients, to, at last, take the credit for your own work! However, even if things go well, you will find when you are self-employed – whether that's a sole trader, or as a limited company – that there are a number of overheads that go with it. Not overheads in cash terms (although there will be plenty of those too!), but overheads of extra work. Think of accounting, invoicing, paying bills, finding work, writing emails, your website, advertising, marketing, etc. There are lots of other tasks that will suddenly surround you that have nothing to do with your original skills and the perception of your role. It can be daunting and many people come a cropper before the business has ever really got off the ground.
The trouble in the kind of scenario described is that the self-employed person has created a job, rather than a business, but because it IS a business, there are a lot of other jobs that go with it. Unless you manage to charge high for what you do you are likely to be lumbered with several jobs, rather than achieving the freedom you had hoped for.
The Entrepreneur
An entrepreneur will tend not to look for a job, but will look for business opportunities. Those opportunities may have little or nothing to do with any job he has ever had in the past, but will represent the possibility to make money. Going back to the OED definition, an entrepreneur is looking to set up businesses in the hope of profit, rather than looking for some kind of employment.
Richard Branson is a prime example of an entrepreneur looking for new opportunities all the time. How could Virgin, which started off as a record store, find its way into airlines, railways, mobile phones and finances? The latter four ventures have nothing to do with records! Branson looked for, continued to look for and continues to look for, new opportunities to make money. Armed with a brand that is instantly recognisable all over the world, he can get into the industry he wants to.
Got a Big Idea?
If you are happy to create yourself a job, and then take on all the baggage that goes with it, then self-employment could work for you, but realise that it will be hard work, and that you are never likely to make a million – as a single employee, how could you ever earn more than one employee earns?
However, if you wish to create a business, or multiple businesses, and with that, have the potential to make a lot of money, as well as creating jobs and money for other people, then you have the potential to be an entrepreneur.
It's not easy – it's hard work too, but the potential rewards are immense. What's your big idea?
You might also like...