Why Cash Flow is More Important Than Profit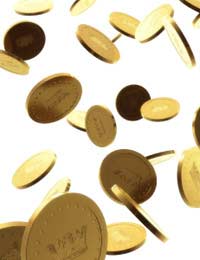 Although companies exist to make a profit, it is cash that is the lifeblood of business. If more money is flowing into a company than flows out then it will make a profit, but in the real world there are ups and downs. In order to grow, sometimes it is necessary to spend money that has not yet been earned.
Sometimes short-term trading conditions may be difficult even though the longer future for the company is bright. It is imperative that a company does not run out of cash in these circumstances.
What is Cashflow?
Cashflow refers to the amounts being received and paid out by a business, with the difference between the two being added to the company's reserves of cash.
Companies report their cashflow using a cashflow statement. Expected future levels of cash are shown using a cashflow projection, which takes into account known income and expenses that are to occur in the future, and can be particularly useful for identifying periods when the company may experience a shortage of available cash.
Cash is King
A company could have a full order book (accounts receivable), which in turn would generate a profit once those orders could be processed, but without enough cash for short-term purchases and staff wages, it could become technically bankrupt.
Cash is particularly important in tough economic times. Lenders tend to have stricter terms and may be less willing to finance loans, particularly at short notice, so it is important to keep an adequate reserve of cash. Interest rates are also more likely to change, so you need to ensure you can cover interest payments on your business loans even if the Bank of England chooses to raise interest rates.
Such financial uncertainty also means that fluctuations in the market may be greater than usual. Both your competitors and your customers are more likely to go under, so you need sufficient liquidity to be able to take advantage of unexpected opportunities (e.g. buying stock from a failed competitor, or even the business outright if you think you can turn it around) and to cover unexpected costs (a customer going bust and owing you money).
Indeed, the best time to have cash is when finance is in short supply: in a recession. Even if you cannot significantly grow your cash reserves, maintaining their level while your competitors' reserves are falling will give your company an edge in the marketplace.
In such circumstances, it can be worth giving up profit in return for a greater reserve of cash: for example, you could sell off some stock at or near your cost price in order to raise cash if you had identified a more lucrative use for that money. Another alternative, commonly employed, is to sell an asset and then lease it back.
An Analogy
Profit is rather like a well. While there is water in the well, you can keep lowering your bucket and drawing it out, and you will never go thirsty. Cashflow, by contrast, is more like the air we breathe. If you run out of air it doesn't matter how much water is in your well because you won't be around to drink it!
You might also like...