Balancing Risk and Reward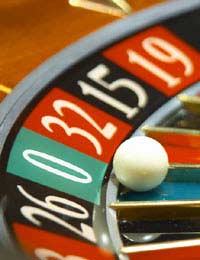 How much of a gambler are you? As an entrepreneur, chances are that you're quite a risk-taker. Even if you think you operate in an established and stable field, simply by running your own business at all you are doing something most people would find too dangerous.
A Wager
Let's try a little test. Suppose a rich friend of yours enjoys gambling and offers to have a wager with you: toss a fair coin and if it lands as heads your friend will give you £6 but if it is tails you must pay her £4. Would you take her up on this offer?
Unless you're feeling sorry for your friend's poor maths skills, you are probably be tempted to go ahead. The odds are fifty-fifty and you stand to win more than you can lose.
But what about if we raise the stakes? What if the wager were £600 against £400? Or £60,000 against £40,000? Or, taking it to extremes, everything your richer friend owns against everything you own: if you win you'll be very wealthy, but if you lose you'll be penniless!
In every one of these scenarios, the odds are in your favour to the same degree. But, whereas you are probably keen to gamble a small amount of money in such a wager, different factors come into play when the amounts increase. Losing the bet would cause you some real hardship, and fear of this pain will probably keep you from taking up this bet even though you stand to win more than you could lose.
This is one example of the need to balance risk and reward. Such balance is fundamental in economics, as the next section shows.
Risk and Reward in Investments
In general, a low-risk investment has only a modest level of return. Government bonds, for example, are often treated as completely safe, since the issuers (the Government) are very unlikely to default and they can raise taxes or even print more money to redeem the bond when it matures. Because of the safety, many large institutions with lots of money that they need a safe haven for are willing to invest, and consequently the rate of interest the bonds pay is very low.
In return for taking a greater chance of losing their money, investors in non-Government bonds are compensated with a higher rate of interest. Investments become increasingly more risky, and offer increasingly higher rates of return to compensate for this, right up the scale. This is why venture capitalists ask for so much equity: they are aware at the outset that some of the companies they invest in will fail, and they need enough of a stake in the successful ones to pay for these failures.
Experienced investors putting together a portfolio of investments will do so based on their own level of risk-aversion. A common approach is to put most of their capital into fairly safe investments, some into medium-risk, medium-return ones and a small proportion into ventures that have a high risk but the potential to multiply the original investment many times over if they are successful.
Balancing Risk and Reward in Your Small Business
Every day you have to make decisions about whether to take chances in your business. Should you spend more money on marketing for the potential reward of increased sales? Should you raise finance to grow your business more quickly? Should you spend the time and money in research and development of a new product that might not sell?
You can treat your small business as if it were an investment portfolio. Indeed, you have already invested plenty of time and money in it. Don't be afraid to take chances if the potential upside is high, but take them proportionately – if you spend the bulk of your time on the safe business that you have already proven to work, this will finance your less-safe ventures. And, who knows, while many of your riskier ideas may come to nothing, one of them may just turn out to be the next big thing!
You might also like...