Set Up a Business in a Recession: A Case Study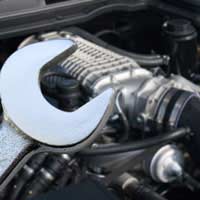 When John was made redundant in December 2008 for the second year running, he felt that the only way he could have security was to run his own business. He investigated the market he wanted to tap into and went from there. John wanted to provide a service that would not add to their outgoings, so the service he created actually works in harmony with a standard life process but saves people money while doing it.
UK Carserv Limited is a nationwide business with over 400 affiliates which enable people to save up to 60% off the price of servicing their vehicles when compared to main dealer prices. This has been achieved purely based on reduced labour charges; the business still uses manufacturer parts and adheres to manufacturer schedules and specifications and can therefore protect warranty as well. The service provides collection of vehicles from either home or work, the service itself, a car wash and vacuum, and return delivery.
Creating the Business
Bought "off the shelf" the business is a limited company as John felt that consumers would find it more reassuring dealing with a Company rather than a sole trader. The process to create the company involved a search of the Companies House website for the availability of the name and then a search to find a company formation business because, says John, "They do all of the annoying form work for you!" A cheque for £47 and John had his Certificate of Incorporation, Memorandum and Articles of Association all done for him.
The business began trading on 1 May 2009 so it is still very early days (July 2009). As with many start-ups John is doing almost everything for himself, but does have a silent partner who paid for the creation of the website. John is realistic enough to admit that he is unlikely to be able to pay himself a "decent wage" for about 12 months. He says he has to keep enough operating capital in the business to make the business stable.
From a marketing point of view John realises that he has to "get the name out to as many people as possible" so that if they own a car or a van they will know they can save money on their vehicle services. As a start point John has tried leaflet drops and newspaper ads, but has so far found the return to be extremely disappointing. So far, he says, "I have found that Google Adwords have given by far the best result." It is a medium he will inevitably continue to use.
Save Money in the Recession
John believes that starting a business like his – where he is helping people to save money – is a good kind of business to start during a recession. "Our business is saving people money on something they would still have to do. However, it is evident that people are thinking very hard before spending any money – even on keeping their vehicles in good running order."
It has been a slow start and John doesn't expect to be making an appearance on Dragons' Den as an investor in the near future! However, he reports that business is increasing week on week, and believes that it is worth sticking with. The hardest part of running a business, John says, is dealing with the Government and banks. "They are very unforgiving and give you no time at all to get into the swing of making money before they want their share. The banks have policies that are laughable and they label them security measures!"
The Future
When asked about the future of the UK economy John thought that it would take longer to pull through than people expect, but laid a lot of the blame at the door of the media who, he says "blow things way out of proportion". He went on: "The cost of living is not getting any cheaper and the unemployment rate is still climbing and borrowing is still on the increase. Who knows when we can expect tangible increases in lifestyle?"
John is optimistic for the future. He thinks daily about the state of his business and whether he should struggle to find a job again. Without having any delusions of grandeur, John wants to create a business that will enable him "to pay the bills and live a little". With a good business ethos, John hopes that his company can slowly climb the ladder, and help himself and the UK out of this recession.
You might also like...