Deciding on Single or Multiple Business Interests: A Case Study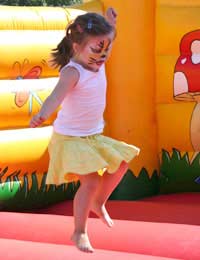 Alan worked as a programmer on mainframes for 24 years before being made redundant in 2004. He had joined his latest company – a large insurance corporate in 2001 – and in 2002 had decided, with two colleagues, to start a business "to earn some pocket money".
They knew they wanted to do something, but weren't sure what. They eventually settled on a fairly straightforward weekend business that should dovetail nicely with their "day job". They started a bouncy castle hire partnership business, which we'll call BounceUpHigh.
BounceUpHigh did its job, earning the three "pocket money", until one decided it was too much effort and left the partnership. The remaining two ticked along, and worked out that the effort to expand the business into a full-time business would be phenomenal – though not impossible.
Then came redundancy for Alan, while his partner was not made redundant. At 47, Alan decided not to pursue his corporate career, but instead formed his own website design company. Alan says: "I thought the new business, together with BounceUpHigh, would give me enough income (though, admittedly nowhere near as much as I had been used to) and a better, more relaxed lifestyle."
In fact, it was tough going and Alan's income was nowhere near enough, and he had to draw on savings."This was the 'rainy day' that the savings were meant for. Unfortunately, it seemed to keep on raining!"
Third Business
To try and improve his income Alan continued to look for other business opportunities. In 2006, he was contacted by an old friend who asked him to build a website for his new overseas property sales business. In doing so, Alan realised that here was another opportunity. After discussing it with his friend, Alan was invited into the business and would get a commission on any sales achieved through the website.
So now Alan had a large finger in three pies. "I was always hoping that one of them would take off in a big way, so that I could concentrate on that business." However, he did have doubts as to whether he was too thinly spread and should concentrate his efforts on one of the three businesses.
"The trouble was that the bouncy castles were the easiest to hire, but brought in the least profit, whereas the overseas properties were the hardest to sell, but brought in the biggest profit. It seemed the best decision to keep going on all three businesses," Alan says.
A Real Job?
Given the difficulties, no one would have blamed Alan for trying to resurrect his career in a large corporation. Did he ever consider it? "Never," he says. "Once I was out, I felt healthier and more relaxed. Money, it transpired, was never the big motivator." However, he was still not earning enough.
Eventually in 2008 he dropped the property sales as they were making no headway and were taking too much time and effort.
Focus
In 2009, Alan has eased back on BounceUpHigh which was taking away his weekends, and now focuses most of his time and effort on his web design business.
"Web design, set up, maintenance, programming: there are a lot of small companies out there who need these services and need them to be affordable. I sub-contract work I cannot do myself, having built up a large network of contacts on various business networking sites such as Ecademy and LinkedIn," Alan says.
"Things are working out better now that I am focusing most of my efforts on one business," he continues. "However, I don't regret my forays into the other businesses. They taught me a lot, and gave me a great variety of day-to-day activities. They also helped me build up my contacts."
Getting through the recession is and will be tough going, but Alan's in for the long haul, and is happy to report that 2009 is far his best year to date.
You might also like...